Support/Info Page: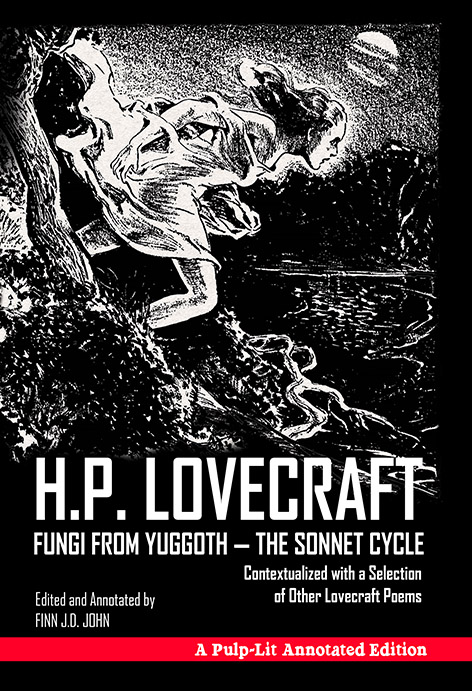 Fungi from Yuggoth: The Sonnet Cycle:
Contextualized with a Selection of Other Lovecraft Poems
By H.P. Lovecraft
ALTHOUGH HE'S BEST KNOWN for his works of weird fiction, H.P. Lovecraft for most of his life considered himself primarily a poet. This cycle of 36 classic-form sonnets, infused with his trademark cosmic dread, represents the pinnacle of Lovecraft's career as a poet, and it's his most well-known and thoroughly-studied body of poetry.
This volume presents Fungi from Yuggoth in the context of Lovecraft's literary life, with examples of his other poetry. In it, you will discover — or rediscover — the dark humor, bold imagination, and sparkling wit that is Howard Phillips Lovecraft's enduring gift to the world.
On this hub page ...
... you will find links out to all the different formats and media in which this book is available.
Start reading now, for free:
The PDF edition of this book is absolutely free of charge and always will be. So if you'd like to take a look and see if it's something you'd like to add to your collection of audiobooks, hardcovers, paperbacks or e-books, you can "try before you buy." Think of it like Amazon's "Look Inside" function, except that you get access to the whole book rather than just a few pages.
And, of course, if you're on a tight budget or if you actually enjoy reading at your computer, you can read the whole book this way.
Listen to the audio sample:
Regrettably, our contract with Audible.com does not permit us to share an extended sample of this audiobook with you. The best we can offer is the five-minute retail sample.
Give a listen! And if it sounds like something you might like, remember — Audible offers a full refund if you don't like a book — no matter how much of it you've already listened to, and no questions asked.
Listen to the sample now:

Click here to see the full book (1 hour, 18minutes)
at Audible.com
Buy a copy of your own:
This book is available in several different formats, so you can pick whichever one fits best into your life:
Deluxe hardcover: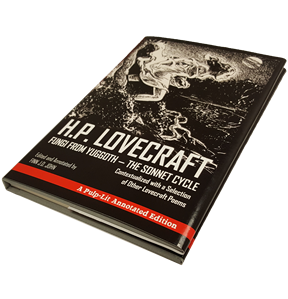 5.5-by-8.5-inch hardcover edition, bound in gray cloth with glossy dustjacket; 102 pages.
ISBN: 978-1945032165. Suggested retail price: $24.99.
Get it from Powell's or BarnesandNoble.com — or find it with a quick search on your favorite bookseller's Website.
Softcover:
Glossy cover; 102 pages.
Suggested retail price: $7.99
Get it from Amazon or AbeBooks.com — or find it with a search on nearly any other bookseller's Website.
E-book:
Audiobook:
1 hour, 18 minutes. Suggested retail price: $6.99.
Get it from Audible.com.
Other titles you might like:
Robert E. Howard's Conan the Cimmerian Barbarian: The Complete Weird Tales Omnibus:
Hardcover (860 pages)
Softcover, pulp-mag-size 7x10
E-book (Kindle or EPUB)
Audiobook (35 hours)
Click HERE to learn more
The John Carter Trilogy of Edgar Rice Burroughs:
Hardcover (636 pages)
Deluxe 6x9 softcover
E-book (Kindle or EPUB)
Audiobook (16.3 hours)
Click HERE to learn more
The Tarzan Duology of Edgar Rice Burroughs (Annotated Omnibus Edition):
Softcover (588 pages)
E-book (Kindle or EPUB)
Audiobook (16.3 hours)
Click HERE to learn more
Sweeney Todd, The Barber of Fleet-Street (two-volume set):
Hardcover and Softcover, 538 pages (Vol. I) and 488 pages (Vol. II)
E-book: Complimentary PDF
Click HERE to learn more
Varney the Vampyre; or, The Feast of Blood (two-volume set):
Hardcover and Softcover, 650 pages (Vol. I) and 716 pages (Vol. II)
E-book: Complimentary PDF
Click HERE to learn more
Robert E. Howard's Sailor Steve Costigan: The complete collection of published stories:
Softcover, 338 pages
E-book (Kindle or EPUB)
Click HERE to learn more