Support/Info Page: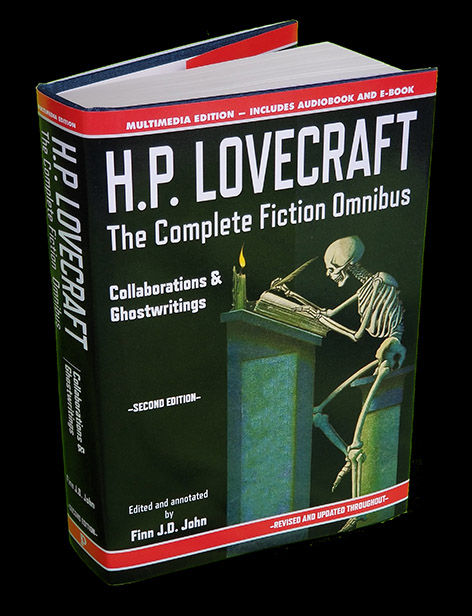 H.P. LOVECRAFT: The Complete Omnibus Collection
Collaborations & Ghostwritings

This volume is part of the three-book Pulp-Lit Omnibus Collection of all the fiction writing of Howard Phillips Lovecraft. It presents the works of weird fiction which he ghostwrote or on which he collaborated with another author.
On this hub page you will find links out to all the different formats and media in which this book is available.

Table of Contents:
[NOTE: DIGITS IN BRACKETS CORRESPOND TO CHAPTER NUMBERS IN THE AUDIOBOOK EDITION]
Introduction [1] 3
Winifred V. Jackson [2] 9

The Green Meadow (1919) [3] 11
The Crawling Chaos (1920) [4] 17

Anna Helen Crofts [5] 25

Poetry and the Gods (1920) [6] 27

Sonia Haft Greene [7] 35

Four O'Clock (1922)* [8] 37
The Horror at Martins Beach (1922) [9] 43

Harry Houdini [10] 49

Under the Pyramids (1924) [11] 51

Wilfred Talman [14] 75

Two Black Bottles (1926) [15] 77

J. Chapman Miske [16] 89

The Thing in the Moonlight (1927)* [17] 91

Adolphe de Castro [18] 95

The Last Test (1927) [19] 99
The Electric Executioner (1929) [25] 141

Zealia Bishop [26] 159

The Curse of Yig (1928) [27] 161
The Mound (1929) [28] 177
Medusa's Coil (1930) [36] 241

Henry Whitehead [43] 277

The Trap (1931) [44] 279
Bothon (1932)* [45] 299

Hazel Heald [46] 325

The Man of Stone (1932) [47] 327
Winged Death (1932) [48] 341
The Horror in the Museum (1932) [51] 363
Out of the Aeons (1933) [54] 389
The Horror in the Burying-Ground (1933) [60] 413

Duane W. Rimel [61] 427

The Tree on the Hill (1934) [62] 429
The Sorcery of Aphlar (1934) [66] 439
The Disinterment (1935) [67] 443

Robert H. Barlow [68] 455

The Slaying of the Monster (1933) [69] 457
The Hoard of the Wizard-Beast (1933) [70] 463
The Battle that Ended the Century (1934) [71] 465
Till A' the Seas (1935)) [72] 469
Collapsing Cosmoses (1935) [75] 477
The Night Ocean (1935) [76] 481

E. Hoffman Price [77] 503

Tarbis of the Lake (1932) [78] 505
Through the Gates of the Silver Key (1933) [79] 519

William Lumley [88] 551

The Diary of Alonzo Typer (1935) [89] 553

Kenneth Sterling [90] 571

In the Walls of Eryx (1936) [91] 573

Multi-Author Collaborations [92] 599

The Challenge from Beyond (1935) [93] 603

I. C.L. Moore 603
II. A. Merritt [94] 605
III. H.P. Lovecraft [95] 607
IV. Robert E. Howard [96] 612
V. Frank Belknap Long [97] 615
* Works on which H.P. Lovecraft's degree of authorship or involvement is in dispute are marked with an asterisk.
Listen to the audio sample:
Regrettably, our contract with Audible.com does not permit us to share an extended sample of this audiobook with you. The best we can offer is the five-minute retail sample.
Give a listen! And if it sounds like something you might like, remember — Audible offers a full refund if you don't like a book — no matter how much of it you've already listened to, and no questions asked.
Listen to the sample now:

You can get the full book (26 hours, 8 minutes)
at Audible.com.
Start reading now, for free:
The PDF edition of this book is absolutely free of charge. So if you'd like to take a look and see if it's something you'd like to add to your collection of audiobooks, hardcovers, paperbacks or e-books, you can "try before you buy." Think of it like Amazon's "Look Inside" function, except that you get access to the whole book rather than just a few pages.
And, of course, if you're on a tight budget or if you actually enjoy reading at your computer, you can read the whole book this way.
Buy a copy of your own:
This book is available in several different formats, so you can pick whichever one fits best into your life:
Hardcover Multimedia Bundle Edition: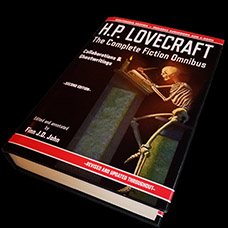 Royal 8vo (6.14x9.21) hardcover edition, bound in glossy casewrap with glossy dustjacket; 638 pages.
Includes the full audiobook, EPUB e-book, and PDF versions as downloadable bonus content.
ISBN 978-1-63591-341-5. Suggested retail price: $64.99 ($79.99 in Canada).
Get it from Powell's or barnesandnoble.com — or search your favorite bookseller's Website!
Pulp-mag-size 7x10-inch softcover:
Glossy cover; 638 pages.
ISBN 978-1-63591-342-2. Suggested retail price: $29.99
Get it from Amazon — or find it with a search on nearly any other bookseller's Website.
E-book:
Audiobook:
26 hours, 8 minutes.
ISBN 978-1-63591-345-3. Suggested retail price: $29.99.
Get it from Audible.com.
Other titles you might like:
Robert E. Howard's Conan the Cimmerian Barbarian: The Complete Weird Tales Omnibus:
Hardcover (860 pages)
Softcover, pulp-mag-size 7x10
E-book (Kindle or EPUB)
Audiobook (35 hours)
Click HERE to learn more
The John Carter Trilogy of Edgar Rice Burroughs:
Hardcover (636 pages)
Deluxe 6x9 softcover
E-book (Kindle or EPUB)
Audiobook (16.3 hours)
Click HERE to learn more
The Tarzan Duology of Edgar Rice Burroughs (Annotated Omnibus Edition):
Softcover (588 pages)
E-book (Kindle or EPUB)
Audiobook (16.3 hours)
Click HERE to learn more
Sweeney Todd, The Barber of Fleet-Street (two-volume set):
Hardcover and Softcover, 538 pages (Vol. I) and 488 pages (Vol. II)
E-book: Complimentary PDF
Click HERE to learn more
Varney the Vampyre; or, The Feast of Blood (two-volume set):
Hardcover and Softcover, 650 pages (Vol. I) and 716 pages (Vol. II)
E-book: Complimentary PDF
Click HERE to learn more
Robert E. Howard's Sailor Steve Costigan: The complete collection of published stories:
Softcover, 338 pages
E-book (Kindle or EPUB)
Click HERE to learn more