Support/Info Page: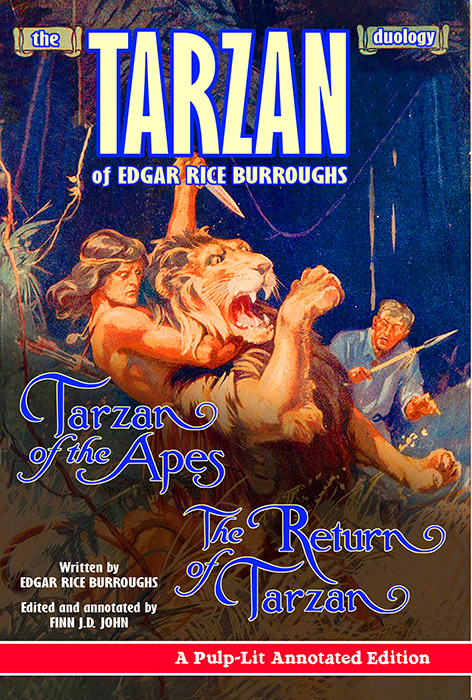 Tarzan of the Apes and The Return of Tarzan:
The Tarzan Duology of Edgar Rice Burroughs
THE ORIGINAL APE-MAN — In the wild, unexplored coastal jungles of West Africa lives a wild human boy named Tarzan, the adopted son of a tribe of fierce almost-human anthropoid apes — but in reality the unknown heir of a wealthy and titled English noble family.
Then one day, a small party of American treasure-seekers is marooned on Tarzan's beach, including a lovely Baltimore belle named Jane Porter. When she leaves, Tarzan quits his jungle life and learns the ways of civilized man, so that he can follow her. But after he arrives, he finds he must choose between his noble birthright and her future happiness ...
The two books in this duology were the world's introduction to Tarzan of the Apes — possibly the most widely recognized character in fiction. Over the century since he was introduced to us, he has starred in hundreds of books, comics, and films, and thousands of derivative bits of pop culture such as bubble-gum cards and lunch pails. Only Bram Stoker's Dracula has starred in more movies.
Yet the Tarzan most people think they know is far different from the original Tarzan — the Tarzan you'll meet in these pages. The Tarzan most of us know is a crude, powerful, primitive man, who speaks in monosyllables ("Me Tarzan. You Jane. Where boy?") . The original Tarzan was altogether different — fluent in at least four languages (Ape, French, English and Arabic, in that order) and equally comfortable in the smoking-room of a great ocean liner as he was in the savage jungle.
On this hub page ...
... you will find links out to all the different formats and media in which this book is available.
Start reading now, for free:
The PDF edition of this book is absolutely free of charge and always will be. So if you'd like to take a look and see if it's something you'd like to add to your collection of audiobooks, hardcovers, paperbacks or e-books, you can "try before you buy." Think of it like Amazon's "Look Inside" function, except that you get access to the whole book rather than just a few pages.
And, of course, if you're on a tight budget or if you actually enjoy reading at your computer, you can read the whole book this way.
Listen to the audio sample:
Regrettably, our contract with Audible.com does not permit us to share an extended sample of this audiobook with you. The best we can offer is the five-minute retail sample.
Give a listen! And if it sounds like something you might like, remember — Audible offers a full refund if you don't like a book — no matter how much of it you've already listened to, and no questions asked.
Buy a copy of your own:
This book is available in several different formats, so you can pick whichever one fits best into your life:
Deluxe 6x9 softcover: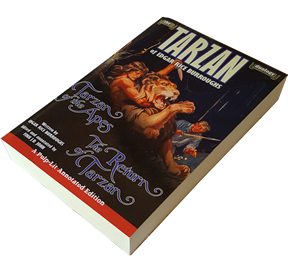 Glossy cover; 588 pages.
ISBN: 978-1945032042. Suggested retail price: $39.99.
Get it from Powell's or BarnesandNoble.com — or find it with a quick search on your favorite bookseller's Website.
E-book:
Suggested retail price: $4.99.
Get it from Kindle — or iBooks, or Nook, or wherever you like!
Audiobook:
16 hours, 20 minutes. Suggested retail price: $24.99.
Get it from Audible.com.
Other titles you might like:
H.P. Lovecraft: The Complete Omnibus, in three volumes:
Robert E. Howard's Conan the Cimmerian Barbarian: The Complete Weird Tales Omnibus:
Hardcover (860 pages)
Softcover, pulp-mag-size 7x10
E-book (Kindle or EPUB)
Audiobook (35 hours)
Click HERE to learn more
The John Carter Trilogy of Edgar Rice Burroughs:
Hardcover (636 pages)
Deluxe 6x9 softcover
E-book (Kindle or EPUB)
Audiobook (16.3 hours)
Click HERE to learn more
Sweeney Todd, The Barber of Fleet-Street (two-volume set):
Hardcover and Softcover, 538 pages (Vol. I) and 488 pages (Vol. II)
E-book: Complimentary PDF
Click HERE to learn more
Varney the Vampyre; or, The Feast of Blood (two-volume set):
Hardcover and Softcover, 650 pages (Vol. I) and 716 pages (Vol. II)
E-book: Complimentary PDF
Click HERE to learn more