Support/Info Page: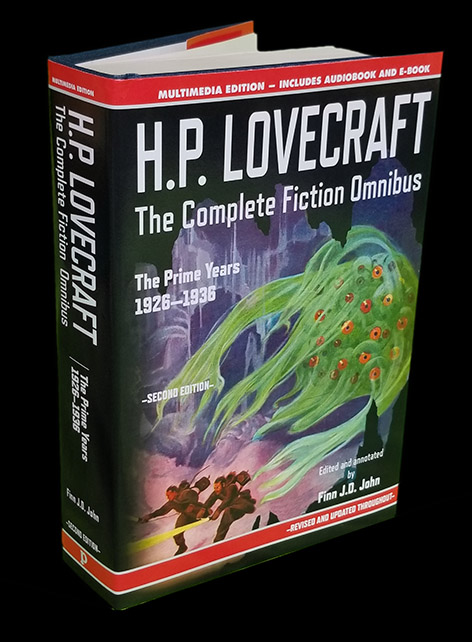 H.P. Lovecraft: The Complete Omnibus
The Prime Years: 1926-1936

This volume contains the stories that nearly everyone agrees are the best work of H.P. Lovecraft's life. Chronologically, it is the second book in a three-volume omnibus set comprising the complete fictional works of Howard Phillips Lovcecraft.
On this hub page you will find links out to all the different formats and media in which this book is available.
Table of Contents:
[NOTE: DIGITS IN BRACKETS CORRESPOND TO CHAPTER NUMBERS IN THE AUDIOBOOK EDITION]
Foreword [1]        xiii


1926: The Supernatural Horror in Literature Era [2]    3

Cool Air [3]    5
The Call of Cthulhu [4]    15
Pickman's Model [8]    43
The Strange High House in the Mist [9]    57
The Silver Key [10]    67

1927: A Dawning Golden Age [11]    79

The Dream-Quest of Unknown Kadath [12]    81
The Case of Charles Dexter Ward [13]    171
The Colour out of Space [39]    281
The Descendant [40]    307
The Very Old Folk [41]    311

1928: Bachelor [42]    319

Ibid [43]    321
The Dunwitch Horror [44]    327

1929: Poetry and Freedom [55]    369

The Outpost [56]    371
The Ancient Track [57]    375

1930: The Traveler from Providence [58]    377

Fungi from Yuggoth [59]    379
The Whisperer in Darkness [96]    399

1931: A Crisis of Confidence [105]    457

At the Mountains of Madness [106]    459
The Shadow over Innsmouth [119]    551

1932: The Ghost Writer [120]    609

The Dreams in the Witch House [121]    611

1933: Another Downsizing [122]    645

The Thing on the Doorstep [123]    647
The Wicked Clergyman [129]    671

1934: Darkness Gathers [130]    677
1935: Swan Song [132]    683

The Shadow out of Time [133]    685
The Haunter of the Dark [142]    743

1936: Twilight [143]    765

To Clark Ashton Smith, Esq., upon His Phantastick Tales, Verses, Pictures, and Sculptures [144]    767

1937: The Ides of March are Come ... and Gone [145]    769


Appendix: Timeline of H.P. Lovecraft's Life and Work [103]    771
Start reading now, for free:
The PDF edition of this book is absolutely free of charge. So if you'd like to take a look and see if it's something you'd like to add to your collection of audiobooks, hardcovers, paperbacks or e-books, you can "try before you buy." Think of it like Amazon's "Look Inside" function, except that you get access to the whole book rather than just a few pages.
And, of course, if you're on a tight budget or if you actually enjoy reading at your computer, you can read the whole book this way.
Listen to the audio sample:
Regrettably, our contract with Audible.com does not permit us to share an extended sample of this audiobook with you. The best we can offer is the five-minute retail sample.
Give a listen! And if it sounds like something you might like, remember — Audible offers a full refund if you don't like a book — no matter how much of it you've already listened to, and no questions asked.
Listen to the sample now:

You can get the full book (35 hours)
at Audible.com.
Buy your own copy:
This book is available in several different formats, so you can pick whichever one fits best into your life:
Hardcover Multimedia Bundle Edition: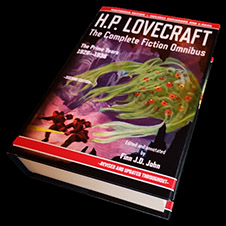 Royal 8vo (6.14x9.21) hardcover edition, bound in gloss casewrap with dustjacket; 814 pages.
Includes the full audiobook, EPUB e-book, and PDF versions as downloadable bonus content.
Suggested retail price: $64.99.
Get it from Powell's or BarnesAndNoble.com — or search your favorite bookseller's Website.
Pulp-mag-size 7x10-inch softcover:
Glossy cover; 814 pages.
Suggested retail price: $24.99
Get it from Amazon — or find it with a search on nearly any other bookseller's Website.
E-book:
Audiobook:
35 hours. Suggested retail price: $29.99
Get it from Audible.com.
Other titles you might like:
Robert E. Howard's Conan the Cimmerian Barbarian: The Complete Weird Tales Omnibus:
Hardcover (860 pages)
Softcover, pulp-mag-size 7x10
E-book (Kindle or EPUB)
Audiobook (35 hours)
Click HERE to learn more
The John Carter Trilogy of Edgar Rice Burroughs:
Hardcover (636 pages)
Deluxe 6x9 softcover
E-book (Kindle or EPUB)
Audiobook (16.3 hours)
Click HERE to learn more
The Tarzan Duology of Edgar Rice Burroughs (Annotated Omnibus Edition):
Softcover (588 pages)
E-book (Kindle or EPUB)
Audiobook (16.3 hours)
Click HERE to learn more
Sweeney Todd, The Barber of Fleet-Street (two-volume set):
Hardcover and Softcover, 538 pages (Vol. I) and 488 pages (Vol. II)
E-book: Complimentary PDF
Click HERE to learn more
Varney the Vampyre; or, The Feast of Blood (two-volume set):
Hardcover and Softcover, 650 pages (Vol. I) and 716 pages (Vol. II)
E-book: Complimentary PDF
Click HERE to learn more
Robert E. Howard's Sailor Steve Costigan: The complete collection of published stories:
Softcover, 338 pages
E-book (Kindle or EPUB)
Click HERE to learn more