Support/Info Page: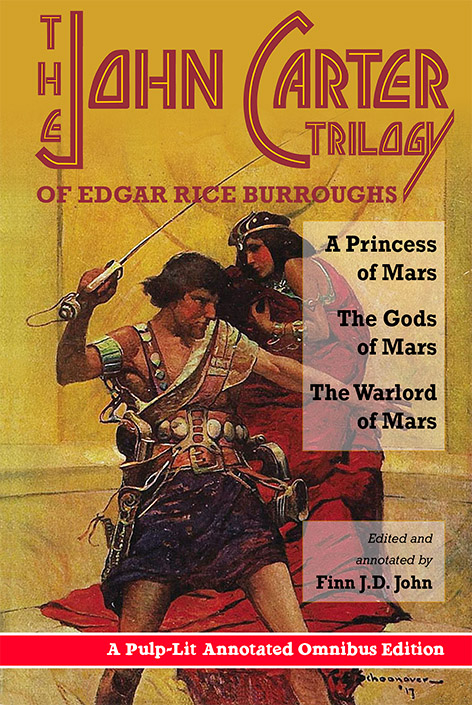 The John Carter Trilogy
of Edgar Rice Burroughs
THE INTERPLANETARY ORIGINAL — John Carter is a fighting man of Earth (or is he?) transported suddenly to the surface of a strange planet full of fierce green giants, savage white apes, and noble but warlike humans — including the one he loves. But can he save her from the doom that threatens to destroy the entire planet?
In a little over 100 years, the Martian tales of Edgar Rice Burroughs have changed the literary world, launching science fiction as a literary category and inspiring generations of young readers to spin their own wildly imaginative tales of distant planets and strange civilizations. This collection, gracefully and unobtrusively annotated, comprises the first three books of the series, which combine as a trilogy to tell the story of Captain Jack Carter's adventures among the many strange civilizations of a dying planet. . . .
On this hub page ...
... you will find links out to all the different formats and media in which this book is available.
Start reading now, for free:
The PDF edition of this book is absolutely free of charge. So if you'd like to take a look and see if it's something you'd like to add to your collection of audiobooks, hardcovers, paperbacks or e-books, you can "try before you buy." Think of it like Amazon's "Look Inside" function, except that you get access to the whole book rather than just a few pages.
And, of course, if you're on a tight budget or if you actually enjoy reading at your computer, you can read the whole book this way.
Listen to the audio sample:
Regrettably, our contract with Audible.com does not permit us to share an extended sample of this audiobook with you. The best we can offer is the five-minute retail sample.
Give a listen! And if it sounds like something you might like, remember — Audible offers a full refund if you don't like a book — no matter how much of it you've already listened to, and no questions asked.
Buy a copy of your own:
This book is available in several different formats, so you can pick whichever one fits best into your life:
Hardcover:
6.14x9.21-inch hardcover edition, casewrap binding with glossy dustjacket; 636 pages.
ISBN: 978-1945032004. Suggested retail price: $39.99.
Get it from Powell's or BarnesandNoble.com — or find it with a quick search on your favorite bookseller's Website.
Deluxe 6x9-inch softcover:
Glossy cover; 636 pages.
ISBN 978-0986409707. Suggested retail price: $24.99
Get it from Amazon or AbeBooks.com — or find it with a search on nearly any other bookseller's Website.
E-book:
Suggested retail price: $4.99.
Get it from Kindle — or iBooks, or Nook, or wherever you like!
Audiobook:
19 hours, 25 minutes. Suggested retail price: $24.99.
Get it from Audible.com.
Other titles you might like:
H.P. Lovecraft: The Complete Omnibus, in three volumes:
Robert E. Howard's Conan the Cimmerian Barbarian: The Complete Weird Tales Omnibus:
Hardcover (860 pages)
Softcover, pulp-mag-size 7x10
E-book (Kindle or EPUB)
Audiobook (35 hours)
Click HERE to learn more
The Tarzan Duology of Edgar Rice Burroughs (Annotated Omnibus Edition):
Softcover (588 pages)
E-book (Kindle or EPUB)
Audiobook (16.3 hours)
Click HERE to learn more
Sweeney Todd, The Barber of Fleet-Street (two-volume set):
Hardcover and Softcover, 538 pages (Vol. I) and 488 pages (Vol. II)
E-book: Complimentary PDF
Click HERE to learn more
Varney the Vampyre; or, The Feast of Blood (two-volume set):
Hardcover and Softcover, 650 pages (Vol. I) and 716 pages (Vol. II)
E-book: Complimentary PDF
Click HERE to learn more