Support/Info Page: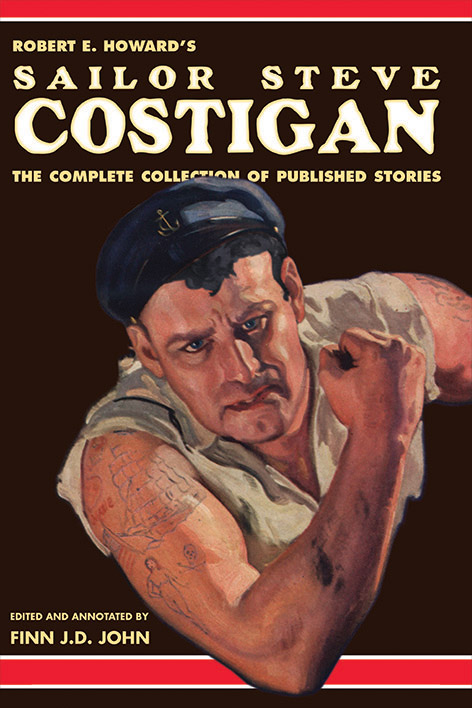 Robert E. Howard's
Sailor Steve Costigan
The Complete Collection of Published Stories

Robert E. Howard is best known today for his "sword-and-sorcery" stories. But in the early 1930s, he was a legend in boxing circles for his humorously over-the-top adventure stories starring the sailor Steve Costigan, champ of the Sea Girl — the toughest trading vessel on the Seven Seas. Steve is an A.B. mariner and amateur boxer, with a heart of gold — and a head of solid wood.
In these 21 tales, he blows around the waterfronts of various Far East ports with his white bulldog Mike, getting swindled by clever dames, pummeling the occasional underworld criminal, and getting into epic fistic battles with anyone who can take a good punch — in or out of the ring.
Table of Contents:
[NOTE: DIGITS IN BRACKETS CORRESPOND TO CHAPTER NUMBERS IN THE AUDIOBOOK EDITION]
Introduction [2]
The Pit of the Serpent [3]
The Bull Dog Breed [4]
Sailor's Grudge [5]
Fist and Fang [6]
Winner Take All [7]
Waterfront Fists [8]
Champ of the Forecastle [9]
Alleys of Peril [10]
The TNT Punch [11]
Texas Fists [12]
The Sign of the Snake [13]
The House of Peril [14]
Breed of Battle [15]
Circus Fists [16]
Dark Shanghai [17]
Vikings of the Gloves [18]
Night of Battle [19]
Alleys of Darkness [20]
The Slugger's Game [21]
General Ironfist [22]
Sluggers on the Beach [23]
Listen to the audio sample:
Regrettably, our contract with Audible.com does not permit us to share an extended sample of this audiobook with you. The best we can offer is the five-minute retail sample.
Give a listen! And if it sounds like something you might like, remember — Audible offers a full refund if you don't like a book — no matter how much of it you've already listened to, and no questions asked.
Buy a copy of your own:
This book is available in several different formats, so you can pick whichever one fits best into your life:
Deluxe softcover (includes e-book):
Royal 8vo (6.14x9.21), 338 pages
ISBN 978-1-63591-352-1. Suggested retail price: $24.99
Get it from Amazon — or find it with a search on nearly any other bookseller's Website.
E-book:
Kindle format, DRM-free.
ISBN 978-1-63591-353-8. Suggested retail price: $7.99 ($9.99 in Canada)
Get it from Kindle!
Audiobook:
12 hours, 30 minutes.
ISBN 978-1-63591-355-2. Suggested retail price: $29.99.
Get it from Audible.com.
Other titles you might like:
H.P. Lovecraft: The Complete Omnibus, in three volumes:
Robert E. Howard's Conan the Cimmerian Barbarian: The Complete Weird Tales Omnibus:
Hardcover (860 pages)
Softcover, pulp-mag-size 7x10
E-book (Kindle or EPUB)
Audiobook (35 hours)
Click HERE to learn more
The John Carter Trilogy of Edgar Rice Burroughs:
Hardcover (636 pages)
Deluxe 6x9 softcover
E-book (Kindle or EPUB)
Audiobook (16.3 hours)
Click HERE to learn more
The Tarzan Duology of Edgar Rice Burroughs (Annotated Omnibus Edition):
Softcover (588 pages)
E-book (Kindle or EPUB)
Audiobook (16.3 hours)
Click HERE to learn more
Sweeney Todd, The Barber of Fleet-Street (two-volume set):
Hardcover and Softcover, 538 pages (Vol. I) and 488 pages (Vol. II)
E-book: Complimentary PDF
Click HERE to learn more
Varney the Vampyre; or, The Feast of Blood (two-volume set):
Hardcover and Softcover, 650 pages (Vol. I) and 716 pages (Vol. II)
E-book: Complimentary PDF
Click HERE to learn more