Support/Info Page: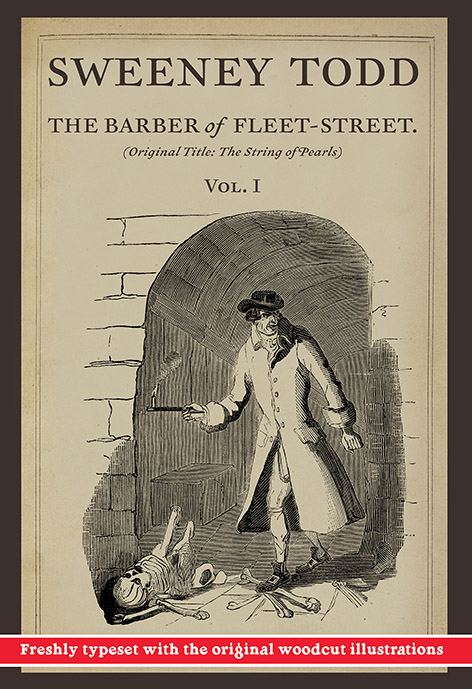 SWEENEY TODD, the Barber of Fleet-Street.
(Original title: The String of Pearls)
VOL. I-II

Now freshly typeset in easy-to-read modern type, this two-volume edition presents the full original text and woodcut illustrations of what's probably the most influential and notorious "Penny Dreadful" ever published: the one in which London was introduced to Sweeney Todd, the Demon Barber of Fleet-Street, and his pie-selling partner-in-crime, Mrs. Lovett.
This is the complete and definitive edition of this timeless horror classic, lightly footnoted to help the modern reader better appreciate the period slang and pop-culture references throughout this thriling Victorian "penny-dreadful."

Start reading now, for free:
The PDF editions of these books are available free of charge. So if you'd like to take a look and see if it's something you'd like to add to your collection, you can "try before you buy." Think of it like Amazon's "Look Inside" function, except that you get access to the whole book rather than just a few pages.
And, of course, if you're on a tight budget or if you actually enjoy reading at your computer, you can read the whole book this way.
Buy a copy of your own:
This title is available in several different formats, so you can pick whichever one fits best into your life and budget:
Hardcover:
Softcover:
E-book:
The PDF editions of both of these books are free!
Other titles you might like:
Varney the Vampyre; or, The Feast of Blood (two-volume set):
Hardcover and Softcover, 650 pages (Vol. I) and 716 pages (Vol. II)
E-book: Complimentary PDF
Click HERE to learn more
H.P. Lovecraft: The Complete Omnibus, in three volumes:
Robert E. Howard's Conan the Cimmerian Barbarian: The Complete Weird Tales Omnibus:
Hardcover (860 pages)
Softcover, pulp-mag-size 7x10
E-book (Kindle or EPUB)
Audiobook (35 hours)
Click HERE to learn more
The John Carter Trilogy of Edgar Rice Burroughs:
Hardcover (636 pages)
Deluxe 6x9 softcover
E-book (Kindle or EPUB)
Audiobook (16.3 hours)
Click HERE to learn more
The Tarzan Duology of Edgar Rice Burroughs (Annotated Omnibus Edition):
Softcover (588 pages)
E-book (Kindle or EPUB)
Audiobook (16.3 hours)
Click HERE to learn more
Robert E. Howard's Sailor Steve Costigan: The complete collection of published stories:
Softcover, 338 pages
E-book (Kindle or EPUB)
Click HERE to learn more